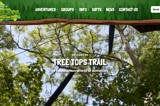 Brand new website for Tree Tops Trail!
We're delighted to bring you our brand new Tree Tops Trail website - bringing you all the information you need ahead of your high ropes adventure, from prices and availability to what to wear!
We welcome your feedback and this is your website after all, so please feel free to get in touch at info@treetopstrail.com if you have any suggestions.
We look forward to seeing you soon!
Let The Adventure Begin!
It's easy to check availability for our Junior and Senior Tree Tops Trails and book your adventure in just a few clicks - simply click on the button below!