ADRENALINE-PUMPING BIRTHDAY PARTIES TO REMEMBER!
Treat the birthday boy or girl to a sky-high adventure to remember with all their friends - and stay stress-free as we take care of everything!
They'll swing through the canopies, tackle rope bridges, clamber up cargo nets and soar on tarzan swings before returning to earth via exhilarating zip lines...wow!!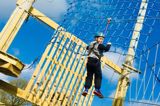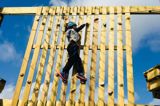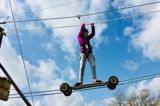 Junior High Ropes Birthday Party - Age 5-10 years
Duration: 1 hour exclusive session on the Junior Tree Tops Trail.
Cost: £135.00 total for up to 10 children. £10.00 per additional child, maximum 20 children per party.
Numbers: Minimum of 10 children / maximum of 20
Time: 10.30am to 11.30am
Requirements: Participants must be over 1.1m tall.
All participants must be a minimum of 1.1m tall and weigh less than 14 stone. One non-participating adult can supervise up to five children.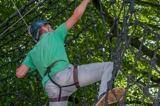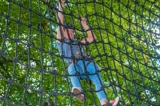 Senior High Ropes Birthday Party - Age 10 to 15 Years
Duration: Approximately 2-2.5 hours
Cost: £25.00 per person
Numbers: Minimum of 6 people, maximum of 14.
Requirements: Participants must be over 1.4m and reasonably fit and agile.
Supervision is carried out by qualified instructors and a minimum of one adult (non or participating) is required to be present at all times.
FOOD OPTIONS
For an additional £6.50 per person, choose from:
Chicken burger, plain burger, sausages, chicken nuggets, cheese burger or veggie burger - all served with fries and a drink.
Birthday Party T&Cs
A £40 non-refundable deposit is required on all activity party bookings.
Please confirm final numbers 48 hrs prior to party.
Please arrange any special dietary requirements prior to party.
Full payment is required on day of party.
Deposits are non refundable.
HOW TO BOOK YOUR BIRTHDAY PARTY
To check availability for your awesome birthday party, simply give us a call on 01646 652000 or email info@treetopstrail.com