EXHILARATING SCHOOL TRIPS FROM 5 YEARS+!
On our exhilarating Tree Tops Trail, students of all ages can challenge themselves to overcome obstacles such as wobbly bridges, climbing walls, cargo nets and thrilling ziplines!
We have courses suitable for both primary and secondary school students with varying obstacles and difficulty levels. The activity will vary in duration depending on group size and whether its a primary or secondary session.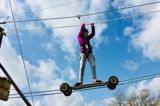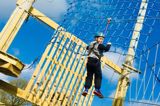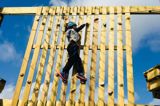 Tree Tops Trail School Trip Sessions
Primary @ £12.00 pp  - 6-10 years (minimum of 10 people)
Secondary @ £21.00 pp  - 10 years+ (minimum of 10 people) 
Typical duration: 
Primary = 45 mins to 1 hour
Secondary = 2 to 3 hours
Our school packages are valid term time only and for schools only.
All groups must be accompanied by one supervisor for every 10 pupils; if you do not have enough supervisors then one of our instructors may be able to offer you an instructor-led group.